Dear all, this is Juanna here with another blog post for the month! Hope all of you are doing well so far. I have been under the weather lately and still trying to get myself back up and better. Weather's pretty erratic all over the globe so please take extra care yeah? (:
So, for this post, first things first, have anyone of you experienced this like me: "why do they not produce certain die-cuts in this particular design or why is that pattern not in season now when I need it?"
Recently, I was give the privilege of assisting a friend to make a gift for a colleague who was only staying in Singapore (where I come from) for 3 months and she wanted something that would highlight the things that represent my country. It was quite clear that there weren't scrapbook materials that would fit what she wanted. I tried to look at brochures with images of Singapore tourist attractions but they were either too big to be cut to fit or too small to make out what the picture was.
So I decided to draw the pictures I need!
So how did I do that: I sketched on a white cardstock first using a pencil and outlined it using a black scrapbooking marker. I did some light colouring using colour pencils and then trimmed the images for use on my art/ layout.
That solved the problem of not being able to find materials that suits my theme. You can also try doodling directly on your layouts or craft. I will be attempting more doodling and will definitely be back to share. It sure adds that personal touch. (: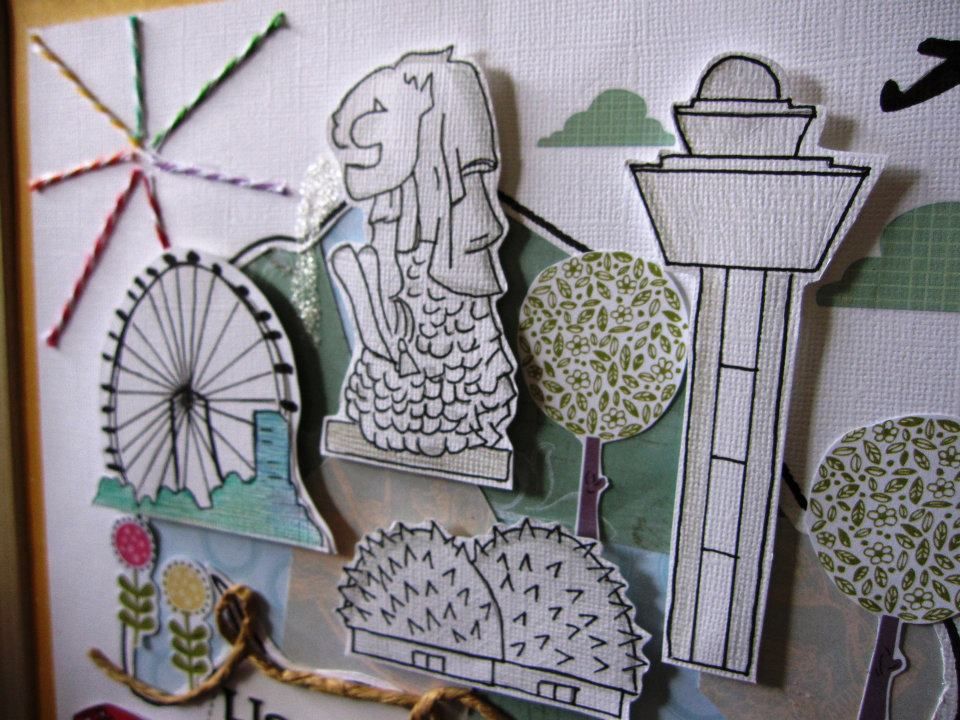 (close up of hand drawn images showcasing the different Singapore tourist attractions.)
Have a go at it, will be fun! (: God bless!